KingClima is China leading manufacturer and supplier of commercial vehicles cooling and heating systems with over 15 years experience. We have already established different product lines and factory workshops for different temperature controlled equipment and climate controlled devices.

1. Bus HVAC Systems
For the bus HVAC systems, we are doing the best in China with the highest standard factory to supply bus air conditioners. In the China market, our bus HVAC systems are used for Yutong bus. Our bus HVAC systems included into the China top 1 quality traditional bus air conditioners and all electric bus air conditioners, bus heating systems included into bus heaters, bus defroster, battery thermal management systems for electric bus ). Check our website for bus HVAC products: www.busclima.com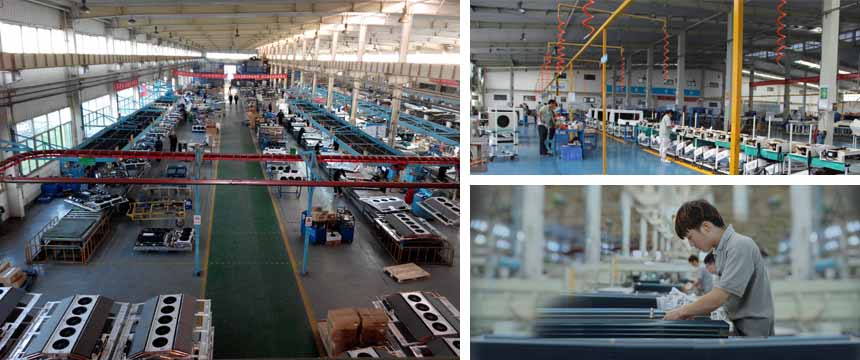 2. Parking Air Conditioners

The DC powered air conditioners for commercial vehicles solve the problem of no idling cooling. At first, it is a kind of solution to help America customers deal with this problem of no idling policy. With more and more increasing demands on parking cooling, the 12v or 24v air conditioners for truck cabs are popular among truck drivers. With times going on, the 12v 24v voltage cannot meet the huge and various market demands. More customers asking for the 48V, 72V or 96V air conditioners that apply for their forklifts, tractors, heavy equipment, cranes, excavators... going with time and updating our products, the 48V-96V DC powered air conditioners are also available to supply for KingClima. Besides the DC powered air conditioners, for the AC powered 110V-240V air conditioners that for motorhome are also available to supply.
Check our website for parking air conditioners: www.climaac.com

3. Engine Driven Air Conditioners
The engine driven air conditioners are a very traditional air conditioners, that need to be powered by compressor. It has a more stable and reliable working performance. Our engine driven air conditioners are from 2KW to 14KW, that can be used for small engineer vehicle cabs or vans and minibuses.
Check our website for engine driven air conditioners: www.climaac.com
4. Parking Heaters
For the parking heaters, it is more relative for the parking air conditioners, but has a different working principle. For this field, we already expand our market in the Russia and get a good feedback which can be prove that the quality is very good. The parking heaters are included into air heaters and water heaters that used for truck cabs, vans, motorhome, RVs and buses.
Check our website for parking heaters: www.topheaterpro.com
5. Transport Refrigeration Units
The transport refrigeration units are closed to human being's food safety. It is rather than important equipment for a refrigerated vehicles build. KingClima transport refrigeration units have different product lines that can meet various demands. You can find all you want for a refrigerated vehicle build device: engine driven truck and van refrigeration units, all electric refrigeration units for electric truck and van, mobile temperature controlled refrigeration units for small mobile trailers or portable freezer box, last 1KM cold chain logistics for tricycles and motorcycles, refrigerated truck boxes.
Check our website for more: www.truckfrigo.com
6. Bus AC Parts and Transport Refrigeration Parts
Our spare parts department is mainly for after sales service product supply. There are two sectors for spare parts. The bus air conditioner parts and transport refrigeration parts. For both sectors, we mainly supply the replacement parts, that is to say, China made parts for original parts replacement, which has a very competitive performance in after sales market. Here you will find all the spare parts for bus air conditioners, condenser fans, blowers, clutches, compressors... for refrigeration parts, we mainly supply thermo king and carrier transicold parts replacement.
Check our website for more: www.topacparts.com

With the business expand and promotion, more and more local customers have an indeed need of KingClima products. As for now, we have already cooperated with many of distributors and service center in some of counties. With more of customers demands on the products and we are looking for to cooperate more partners all over the world.

Relying on our factory advantages, we can supply not only the competitive price but also the good quality that can contend with world famous brands. KingClima industry is also confidence in cooperating with different kinds of partners. We supply OEM service for vehicles factories partners, and after sales service for distributors market. For OEM service, we have a professional and creative technology teams to design a tailored product to meet your demands. For distributor partners, we have a powerful and specialized e-market teams to do online marketing for our local distributors to bring them a steady flow of potential final customers.

We always pursuit to a win-win goal and with a warmly hug to welcome more partners to join us. We also formulate some supportive distributorship policy to help our partners grow their business and also help ourselves grow business. With our rich experience in the commercial vehicles cooling and heating field, we believe that we can be your best and reliable supplier and partner. For the cooperation, there is a very flexible cooperation means as below but not be restricted to the following:
To be our authorized dealers reselling our products in specified market.

Establish a service center to supply after sales service.

To introduce related potential customers to KingClima and gain commission.

To be as a long-term cooperation partners and KingClima supply products stably.

If you have interest in cooperation on any of our product line with KingClima Industry, we warmly welcome you!

For our cooperation, KingClima never stop here and always advance with the times going!
www.kingclima.com
info@kingclima.com